Featured Item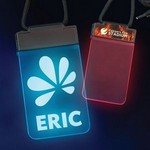 Lighted Badge™ - 1 Imprint Location
Your custom artwork laser-etched into a glowing acrylic badge. Choose laser etching —or— a full color top appliqué. 7 bright colors selectable by pressing on/off button or continuous cycle through a r...
$18.00 - $33.25
RTB Team Sports and Business
Your promotional branding partner
Welcome to RTB Team Sports and Business, your true "one stop" business partner for your promotional product needs. Whether you are looking for something high end as a client gift, employee incentives, event T-shirts or just some simple trade show giveaways, we have nearly ONE MILLION products that are sure to fit your needs.
At RTB, we believe in personal customer service and will not ask you to fill out endless registration forms or create a username and password to order your products. Instead, you will work with your very own personal account manager that will guide you through the entire process from product selection, logo placement, color schemes, and perhaps even suggest alternative products that better serve your needs and those of your budget. Why is that? Quite simply, we don't want you to be just a dollar sign, a blip on the radar, or even just an email address. Your account manager will also work with you by providing virtual samples, quick turnaround, value pricing, and exceptional service. They will ensure it gets done right!
When you find the item/s you're looking for, go ahead and submit the "order cart" and you can sit back and relax. All this does is show us what details you need and/or want for your project. Once we receive that, an account manager will get in touch with you to finalize the order!
In summary, keep it simple and don't stress out, we are here to help! If you can't find what you're looking for, or just don't have the time to search, let us do it for you. Just give us a call, or shoot us a quick email and give us an outline of what your trying to accomplish…and in no time you'll have all the answers and information you need. We look forward to working with you and your product needs.
Cheers,
RTB Team Sports and Business
Signature Showrooms